maxwrite
Surprise surprise, I went to a Barenaked Ladies concert last night. It happened here in Mississauga at the Living Arts Centre. I didn't mention it before now because I didn't wanna jinx it. I talked a bit about it
here
on Tumblr last night when I got in, but I'm only just making a real post about the whole thing. Here's how it went down, including pics:
Last week was my birthday, January 22nd. Apparently my family had purchased a VIP concert package for the show months ago when tickets went on sale (which is good, because apparently the Mississauga show was the first show on their Canadian tour to sell out. I think we were all just so shocked the Ladies were playing here instead of in Toronto, because that never happens and I never thought it would. Not that getting to T.O. from here is a big deal or anything, but if you can avoid long public transit journeys or driving too far in questionable weather, that's always good. Mississauga is a mere 20- to 30-minute drive west of T.O., but I don't drive, so getting there means 90 minutes on public transit, and getting back after a show means having to take a cab at some point because certain buses stop running by the time I get to them. Having the show in Mississauga meant I would get home at a reasonable hour, only have to take one bus and wouldn't have to resort to a cab.). The package included a meet-and-greet (photo-op, autographs, awkward chit-chat) and some commemorative items, which are pictured below: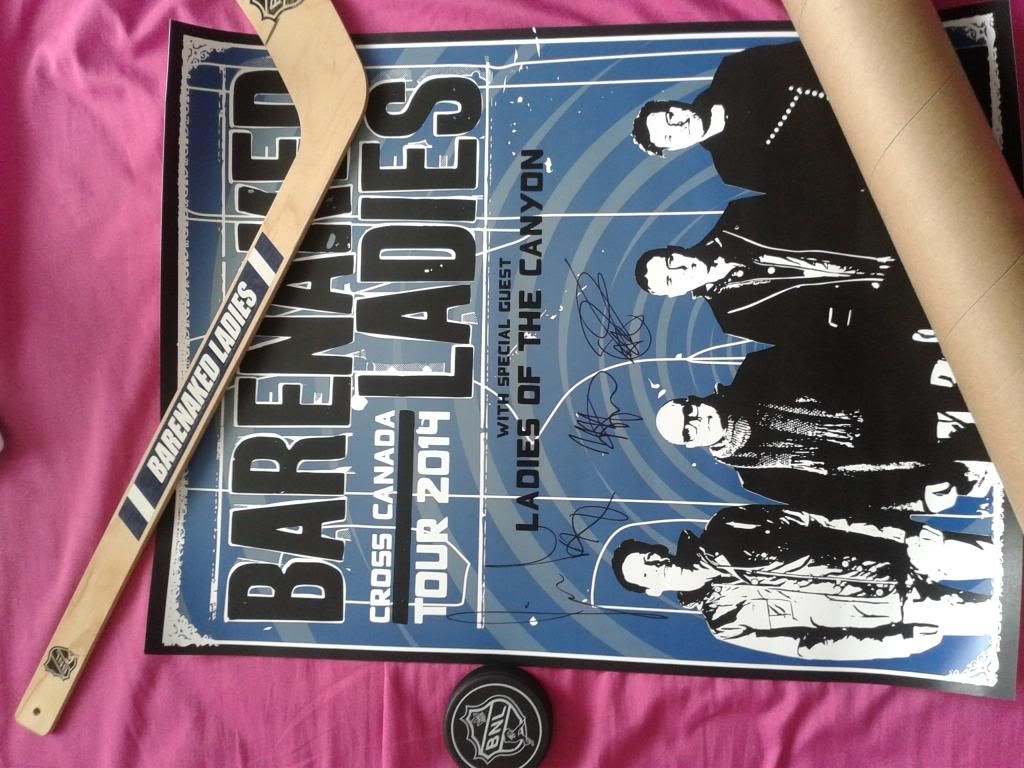 And which are sideways for some reason. That's a BNL hockey puck and mini hockey stick (lol idk what the heck to do with those, but they're cute anyway), and a poster (which I got signed by three of the guys). Not pictured here is the BNL VIP Laminate thing that looks like one of those things you wear on a fabric necklace to get you special access to places at concerts and conventions, but it's strictly commemorative; we didn't need to bring it or any of the special VIP items in order to get into the meet-and-greet or pick up our tickets.
So, as I said in my previous, very brief post, I'd spent the last week and a half just sort of quietly freaking out because I had no idea this was coming. I'd known about the concert since it was announced and was really bummed I wouldn't be able to go, especially considering they never play here. So, I just decided to not think about the show at all and I guess I sort of forgot about it altogether until suddenly I was going to be attending.
Fashion Talk - Feel Free to Skip
I bought a new top:
(That's me trying to look as thin as possible. Please ignore the speckled mirror. I have no idea what those spots even are and I can't be arsed to Photoshop them out.)
It has a slight sparkly sheen to it on the gold part (on sale for $20 - I forget what the original price was, but it was ridiculous). I also got a pair of tall, black boots, flats because I don't do heels (clearance item at Target - $15). I wanted something nice but not too fancy to wear, and I only bought new boots because any boots I already owned that could withstand snow, wouldn't look good with the top, and vice-versa. I also got this bracelet (also on sale - $10), which is kind of a dark gray colour in case you can't tell:
The top and bracelet are from
Laura
. I'm going to make a point to shop there more often.
End of Fashion Talk
So, I was supposed to be at the venue by 6:30pm to check-in and pick up my ticket because the meet-and-greet started at 7pm. Naturally I was late. I didn't actually leave the house until 6:35 and didn't get to the venue until just before 7. Which was fine because nothing ever starts on time anyway. I had plenty of time to check my coat, get my ticket, buy a bottled water and then go and stand around nervously with the other VIPs.
Funny story: when I went to the box office to get my ticket, the woman behind the counter couldn't find me in the system. I was standing there like
This is it, this is exactly what I knew would happen. My ticket magically disappeared and I'll have to turn around and go home, I knew it, I KNEW it.
I'd basically been thinking that since I found out I was going. But as soon as I mentioned it was a VIP ticket, she found it instantly.
We all got led to the back area to meet the band and we're all standing around back there waiting and quietly freaking out together. I met a lovely couple, whose names I unfortunately forget, who ended up sitting next to me once we got into the actual concert. We chit-chatted while we waited for the band. Then the band came in, and it's so weird because I think when you meet people you've mostly only seen on film, you kind of think to yourself "Whoa, they look exactly like themselves." Or not like themselves, as the case may be, but the Ladies look exactly like themselves. I don't know what I expected. The last time I'd been front row at a BNL concert was 2000 or 2001. That had been the last time I'd been close enough to really see their faces well, and I probably thought the same thing back then too, but seeing an artist in concert is not unlike seeing them on a TV; it just feels unreal. There might as well be a screen separating you. This was different; they were right there in the room with me and then right next to me and I was just like "Whoa, they look like them."
If that makes any sense.
So, somehow I ended up being the first to have my picture taken with them. I don't know how that happened. There was no official line up or anything, we all just sort of assembled ourselves in the most sensible way while we waited, which ended up being a kind of line, I guess. I'd chosen to stand in what I'd thought was the most inconspicuous place, what seemed to me to be the unofficial end of the unofficial line, but it turned out to be the unofficial beginning. So, that was terrifying.
I sort of shuffled up to the band and shook each guy's hand. Jim said, "Hi, I'm Jim." And I was like, "I KNOOOOWWWW." And Tyler introduced himself too and I was like, "I KNOOOOWWWW," and in my head I was like
Oh god stop talking to me, you guys, I'm gonna cry.
Thankfully I didn't cry. I stood between Ed and Ty (I think ... I know Ed was on my right because he spoke to me, but I can only guess it was Ty on my left because I was internally freaking out and he was quiet after his intro. We'll see when I actually get the picture (
Edit:
It was Kevin on my left lol
)). After the pic was taken, Ed said, "That's a good one, I can tell." And I was like, "You can't know that," and he was all, "No, I know. I've been doing this a long time." Fucking Ed. <3
So, after all the pics were taken, there was the milling about/autograph/individual pics portion of the M&G. Jim was the first to come up to me and sign my poster. I don't know how tall he is, but he's not as tall as I thought he'd be. At any rate, he is a very attractive, lanky ginger, which I knew of course, but seeing him in person and close up made that even clearer. All the guys are really lovely to look at. Age looks nice on them. Ed's turning into quite the silver fox. He's not completely gray yet, but he's got some gray at his temples, and his pale blue eyes are so icy and pretty. He's always been pretty, but now he's just sort of gorgeous.
Right, back to Jim. We didn't talk long. I couldn't really think of anything real to say to him, or any of them, which is fine with me; less time to end up saying something dumb. They were all super nice. I completely forgot to ask Jim for an individual pic, but I got one with Ed and Ty:
You may be asking yourself why I'm not smiling. Well, as far as I knew, I was. Apparently my face had other ideas. That happens a lot. It seems to be a fine line between no smile and too much smile, and I'm still having a hell of a time figuring out where that line is. *sigh* Anyway, the photo with all the guys, taken by the real photographer, will be available in a few days, I think. I should be getting an e-mail notification soon.
There was a point at which Tyler was waiting with me for Ed to come back so we could take the pic with my phone and we chatted a bit. He asked me where I was from. I told him I'd been a fan forever (20+ years). Stuff like that. I feel like there was more I could have said to each of them, but it would simply have been a lot of gushing.
So, I got Ty and Ed to sign my poster as well, but when I was done with the first three guys, I looked up and Kevin had disappeared. I don't know where he went. But he seems kind of shy so I wasn't too bothered. I don't even know when he left or how many of us he'd gotten to talk to.
After that, we were all escorted out and were able to go into the theatre where the first opening act had already started. I didn't get her name, but ... well, this is her:
I call her Bedazzled Cat Lady. :3 Yes, she is wearing sparkly little kitty ears. Her outfit was covered in little colourful jewels.
She was adorable and very bouncy and her music was catchy pop. She played what I believe is a theremin (I couldn't remember the instrument's name, so I image searched "unusual musical instruments", picked a picture that looked right and took the name from there. I kept wanting to call it a scimitar, but that's a type of sword or something, isn't it?). After her, Ladies of the Canyon came on. They're kind of Dixie Chicksesque. Their stuff was really beautiful, amazing harmonies.
And then the Ladies came on. I won't go into too much detail about the show, because I saw them this past July when they toured with Guster and Ben Folds Five, and this show was similar to that one. You can read my write-up
here
. The main difference this time was that I was in the front row and could see everything. Jim made eye contact with me once while playing and I waved like a dork.
There was one point when another artist joined them on stage. The other act that was performing that night in another theatre within the Living Arts Centre was Blackie and the Rodeo Kings. One of its members, Colin Linden, came over to the Ladies' show during his break from his own show and he joined them for the song
Keepin it Real
. I love that song, and Colin, never having even heard the song before, was absolutely amazing on electric guitar. That song has this deep-down-dirty, swampy, rough, bluesy thing going on. When you listen to it, you don't just bob your head; your entire upper body wants to get into it. During the end of the song when it's just instrumental, the Ladies just let Colin go on his guitar. Ed, Jim and Kevin stood around playing their guitars and bass and just
watching
Colin and really getting into it, rocking to the beat on bent knees (the song just makes you wanna get low, man) and just watching Colin in awe with appreciative smiles, the kind of omg-this-is-some-crazy-sick-playing sort of smiles that tell you that these are serious musicians who know how to play and who understand how difficult it is to play an instrument the way Colin did.
And it suddenly occurred to me how sexy that song is. It was like watching some kind of musical orgy. Just go with me on this one, it was really kind of hot.
Anyway, here are the pics I was able to get:
Pre-show when the Ladies' instruments were being set up. That's Kevin's area. Those are little toy monkeys hanging all over his stuff: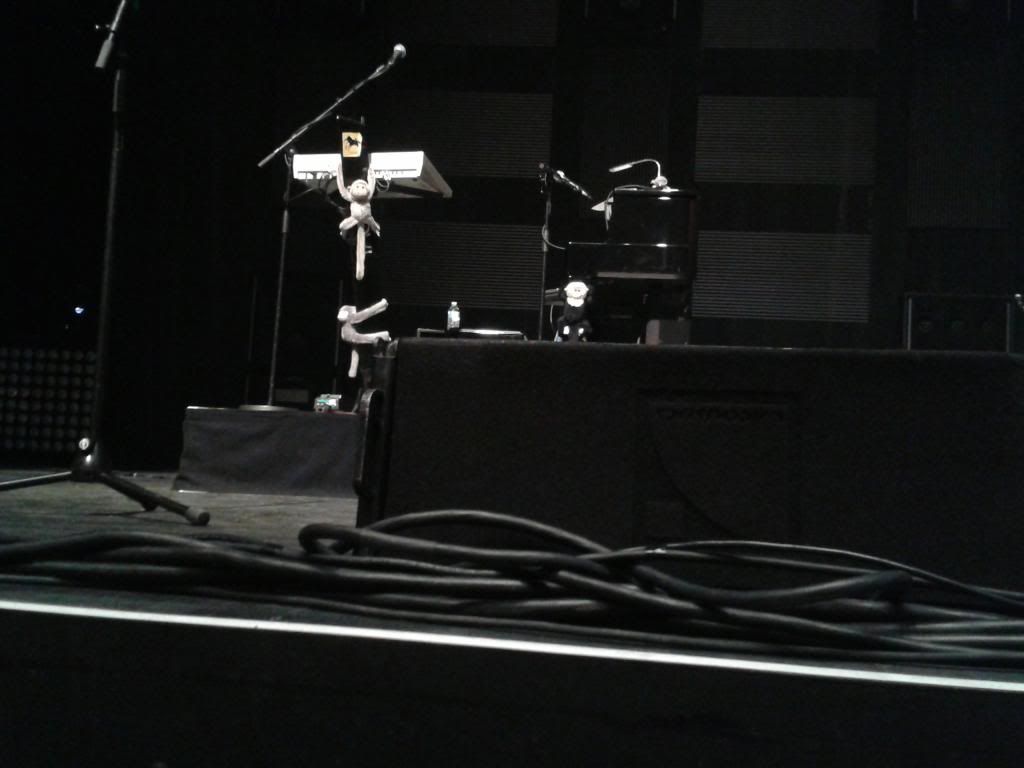 Kevin with a bra that got thrown on the stage during
Pinch Me
:
And the rest: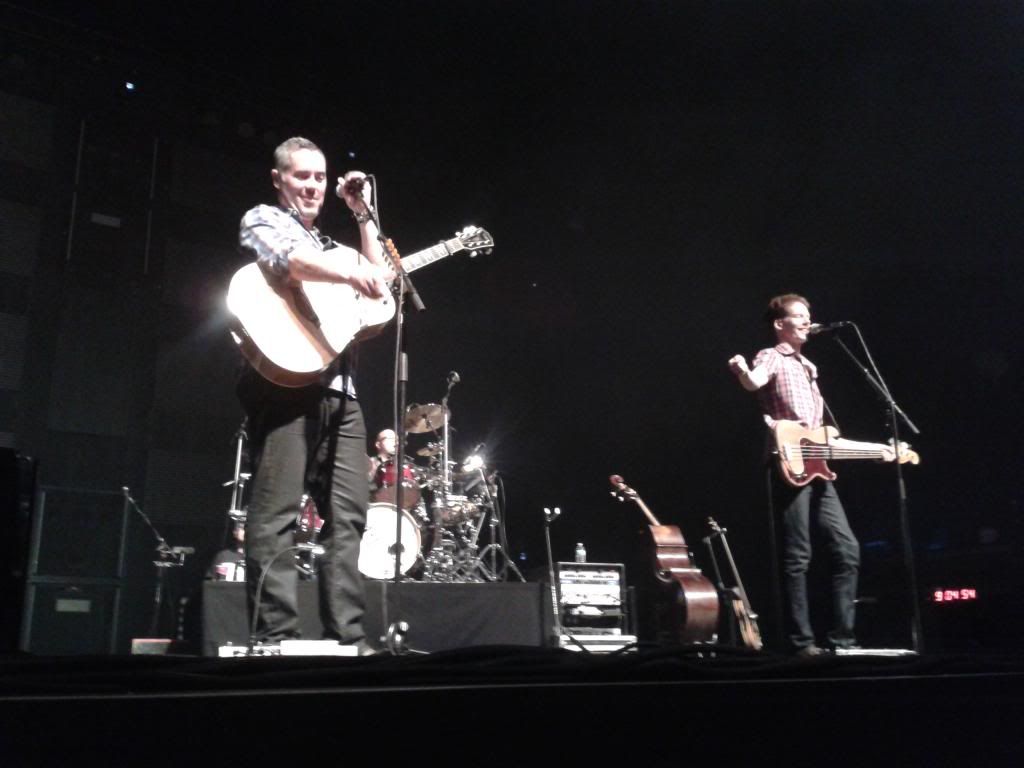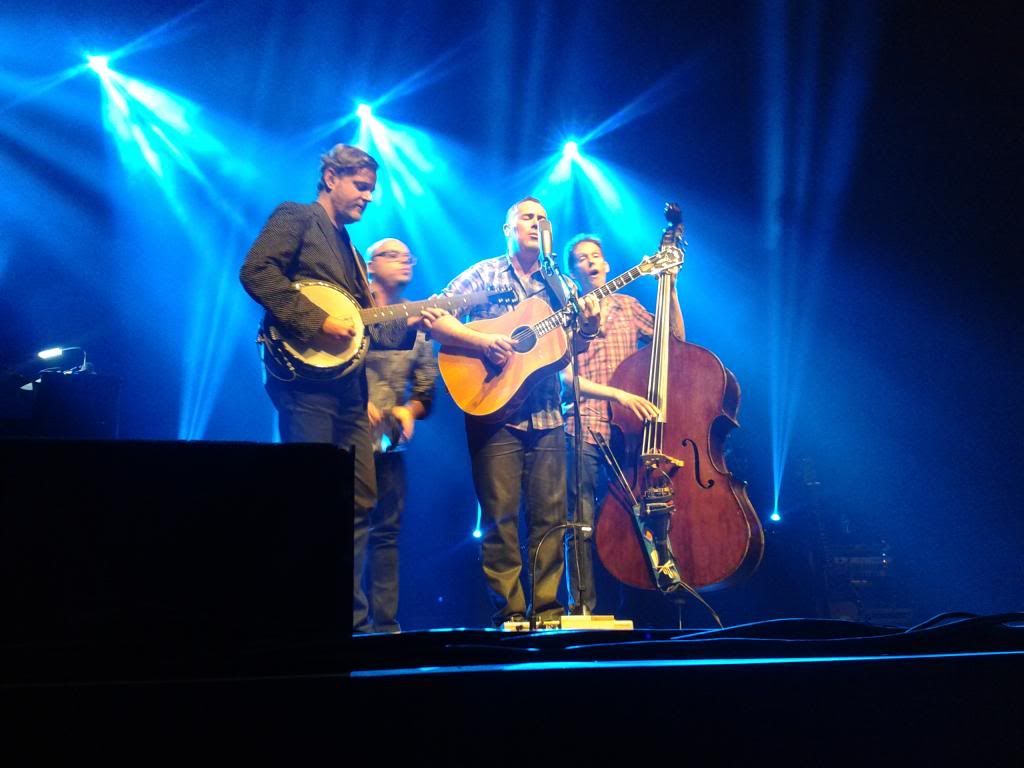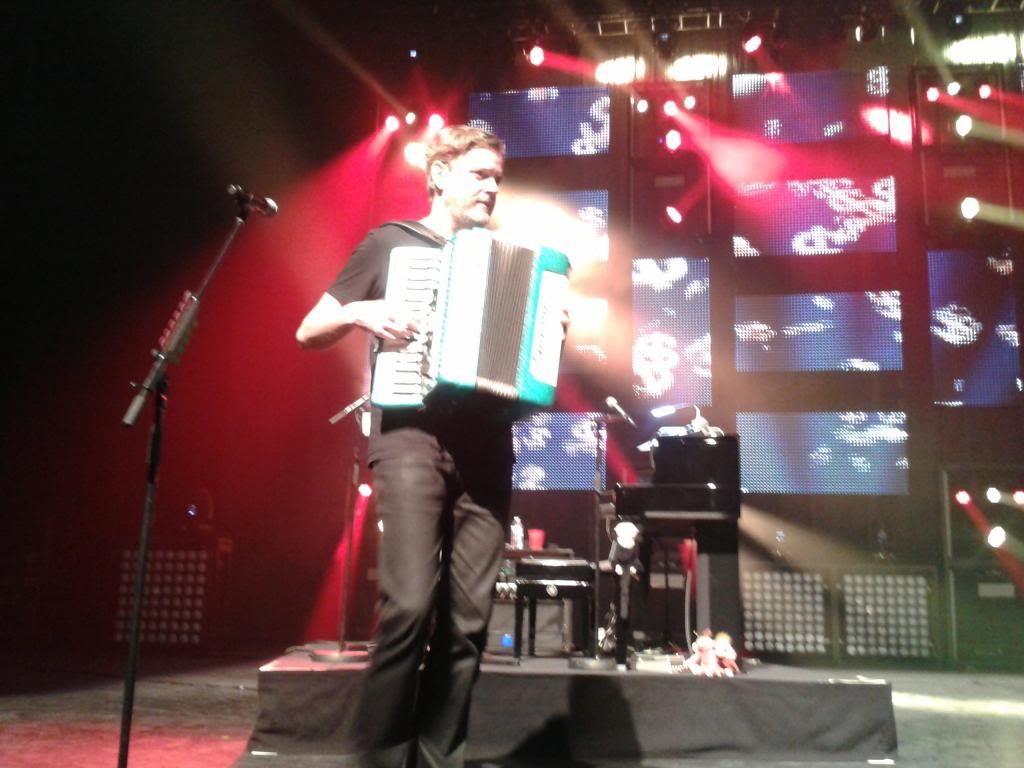 Yes, Tyler is grabbing his crotch here: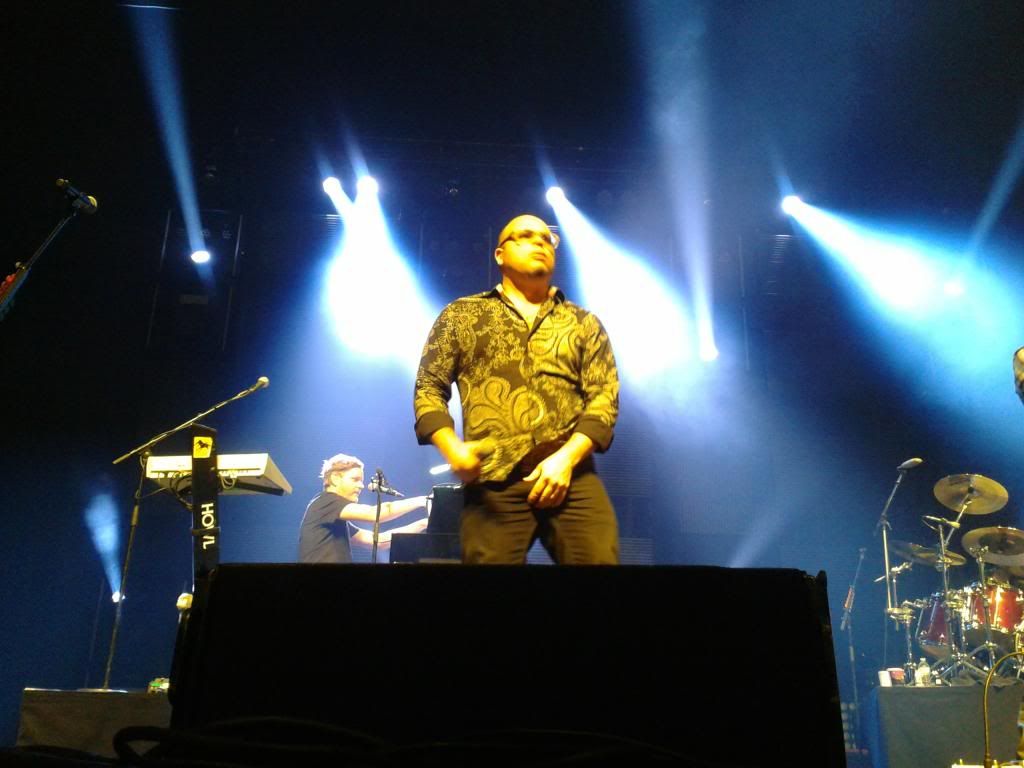 Bye-bye, babies:
This is the first time I was able to get halfway decent pics at a concert. The only other time I was front row I didn't have a camera with me (although I really should have; at the time I was taking a journalism college course, so I
had
a freakin' camera, I just didn't bring it with me).
They only did one encore (which seems to be the standard for them now, no more second encores), and then the show was over. They were waving goodbye to the audience, and Kevin - sweet, adorable, fuzzy-wuzzy Kevin - came up to me, looked me in the eye and offered me his guitar pick. He didn't throw it my way and I was lucky enough to catch it, nope. He came up and handed it directly to me. I reached up for it with both hands - I think I was afraid one of us might drop it. I mouthed "Thank you" and he smiled and nodded sweetly and then was gone.
And then I died.
I think maybe he realized he hadn't gotten a chance to talk to me or sign my poster at the M&G and that was why he did that? Maybe? Or maybe it was just random, I dunno. In any case, here's the pick:
I'm pretty sure that's his artwork on there and his signature on the back. Anyway, my pick is now a necklace, because you bet your sweet ass cheeks I'mma wear that thing everywhere from now on, or at least have it in my purse:
And then Cinderella came back from the ball. Back to normal. And that's all.